Bed Bug Exterminator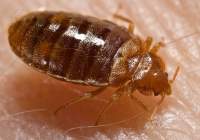 Bed bug infestation has become a frequent news topic in recent years, showing up in homes, office buildings, and even luxury hotels. If you suspect you may have a bed bug problem or you'd just like to schedule a bed bug inspection, give Pest Arrest Inc. a call. As a bed bug exterminator with a decade of experience, we're trained to track down these insects and permanently evict them from both residential and commercial properties. When you need a bed bug specialist in the Rockland County region, look no further. We've been exterminating bed bugs since 2007, and we're your best bet for stomping out these insects! 
One thing you probably know about bed bugs is that they're hard to hunt down. That's why it's a must to hire a bed bug exterminator familiar with spotting the places the parasites like to lurk and snuffing them out. The bed bug exterminators at Pest Arrest Inc. know right where to look when doing your bed bug inspection. If there are traces of bed bug evidence on mattresses, box springs, and other typical hiding spots, you can rest assured that our bed bug services will find them.  
Professional Bed Bug Treatment
Depending on the extent of your bed bug infestation, Pest Arrest Inc. will execute a full-scale attack to eliminate your entire bed bug population. In most cases, we can complete your bed bug extermination with three chemical spray treatments over the course of four weeks. For some property owners, the professional bed bug treatment process is a bit longer. Rest assured that we will get to the bottom of your bed bug problem regardless of how many visits it takes. We understand that finding out you have bed bugs can come as quite a shock. Our bed bug company is here to put your mind at ease with our tireless dedication to detecting and exterminating bed bugs.
Trusted Exterminator for Bed Bugs
With bed bugs being active at night and feasting on human blood, you would think the bite marks on victims would be enough to prove their presence. Nevertheless, according to the Centers for Disease Control and Prevention, it can take as long as 14 days for bite marks to show up on skin, and some people never develop any physical marks at all. That's a long time for your situation to escalate into a major bed bug infestation. So if you're concerned you have a bed bug problem, watch for other signs such as blood spots on bedding and an unpleasant, musty smell. Most importantly, though, don't delay: Put in a call to Pest Arrest Inc. for bed bug services from professionals you can trust.
Given the recent rise in bed bug infestations, you can never be too careful. Whether you own a home in Rockland County or operate a business, why not safeguard your property from bed bugs by going ahead with a bed bug inspection? To make an appointment with our licensed and insured bed bug exterminators, call Pest Arrest Inc. today. We want you to sleep tight, knowing for certain the bed bugs won't bite.